Full-Service Insurance Agency – Our Coverage Options
At Full Circle Insurance, we provide upfront quotes on commercial and personal insurance plans, offering complete transparency, and establishing a trusting relationship from the beginning. In addition, we provide premium financing for new and existing businesses with a lower APR (Annual Percentage Rate). We believe in making things easier on our clients and provide different payment options, including web pay and pay in person. We provide instant insurance ID cards to keep your policy number, effective dates, vehicles, and policy holders in one place and immediately following the purchase of insurance coverage. Furthermore, we file your SR22 form immediately with the state of Illinois to ensure that you carry the state-mandated amount of liability coverage on your insurance policy.
For our commercial clients, a certificate of insurance will be faxed and emailed for verification purposes and provides information about your specific insurance coverage. Truck drivers need the right liability insurance to meet minimum federal and state requirements, and we are more than happy to provide your truck and cargo filings. We provide endorsements for primary and noncontributory policies. For example, if you need to provide liability insurance that is primary and noncontributory, that means your policy must bay before other policies and without seeking contribution from other policies. At Full Circle Insurance we offer a waiver of subrogation, which prevents the insurance company who must pay the loss, from suing the other party.
For more information, give us a call today to speak with an insurance agent!
Trucking Insurance Belleville IL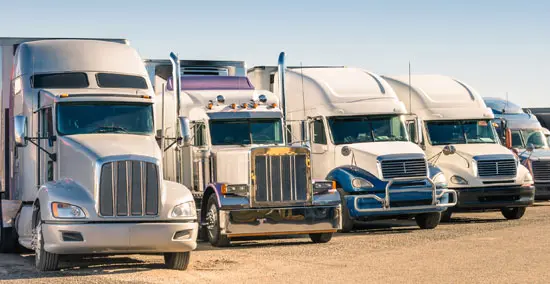 At Full Circle Insurance, we know trucking insurance. Whether you are a single owner-operator or a large convoy, we offer numerous insurance programs designed with you in mind. We comprise our programs based on the ethical, safety, and risk management variables.
Regardless if you drive tractor-trailers, flatbeds, or semi-trucks with attached trailers; if you depend on trucking and transportation for your business – we can help provide coverage! We offer specialized truck insurance coverage plans designed for professional truck drivers like yourself.
Our special packages of trucking insurance service many types of trucks, including:
Box Trucks
Tractors
Tank Trucks
Front Loaders
Semi Trucks
Flatbed Trucks
Dump Trucks
Flatbed Trailers
Garbage Trucks
Auto Hauler Trailers
Pickup Trucks
And More!
Auto Insurance Belleville IL
If you have just bought a new car or are thinking about it, and need adequate auto insurance coverage –look no further than Full Circle Insurance. We offer various types of coverage, from liability coverage to comprehensive & collision coverage. Call us today to make sure that you have the right auto insurance policy for your situation. We help you understand the various types of coverage options we provide and after selecting an option, you can determine the limits of coverage you will need.
Some examples of coverage types we provide:
Bodily Injury Liability Coverage – In most states, this is a mandatory coverage option. In the event of an accident that you are legally responsible for, covers the damages due to injury or death in a vehicle-related accident. It also includes legal defense costs up to your coverage limits.
Property Damage Liability Coverage – This coverage is responsible for covering the cost of damage to another person's vehicle in the event of an accident that you are legally responsible for. This coverage is also mandatory in most states.
Medical Payments Coverage – This coverage option helps pay for a medical doctor, hospital, and funeral expenses for you and your passengers injured or killed, regardless of who is at fault. Payments are usually limited to a certain time frame of the accident and optional in most states without no-fault insurance systems.
Collision Coverage – Normally required if you have a vehicle loan, this coverage pays for damage to your vehicle or a vehicle operated by you that was in a collision or rolled over.
Rental Reimbursement – In the event that your vehicle is being repaired for damage covered within your policy, this pays for a rental vehicle as a replacement. If a vehicle is essential in your everyday life, you may want to consider this coverage option.
Towing & Labor – Often included in auto club memberships, this covers the costs of services needed when your car breaks down. It covers the cost of gas delivery, oil or battery change, and even if you lock your keys in your car. However, it doesn't cover the cost of the item – just the service/labor fee.
If you have a question about auto insurance coverage, feel free to give us a call and discuss your options. We are always happy to help and inform potential customers of their best options for proper coverage!
Life Insurance Belleville IL
Life insurance is one of the most cost-effective ways to protect and provide for your family who depends on you financially. Premature death is uncomfortable and sudden, but if it happens – is your family covered? We make buying insurance easy and simple. We have a wide range of coverage options and agents who would love to talk to you to make sure you select the perfect one for your situation. Call us today for free quotes on your new life insurance policy! While there are a couple of great reasons to purchase a life insurance plan, there a numerous amount of coverage options, read below to find out what we offer.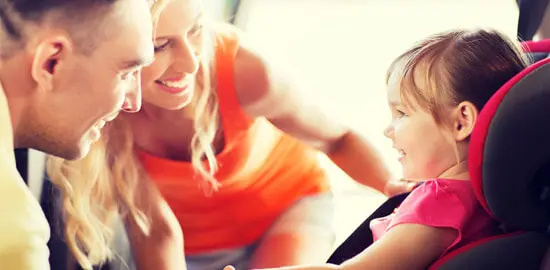 Term Insurance – Offering level term, decreasing term, and increasing term; this is a policy that is viable for a certain period of time and provides a death benefit to the beneficiaries of the policy if the policyholder dies within the term of the policy.
Permanent Insurance – For as long as premiums are paid; this policy provides a death benefit for the entire life of the policyholder. Can also include a cash value option.
Whole Life Insurance – A permanent insurance policy that provides lifetime coverage to the policyholder. This includes a fixed-rate premium and accumulates cash value.
Universal Life – A variation of a whole life insurance policy equipped with investment features. This is a policy that requires close attention; and can include flexible premiums, guaranteed interest accrual, and cash withdrawals.
Transitional Life Insurance – A newer insurance policy coverage that changes depending on what stage you are in life. A very flexible option that allows you to determine the term length, initial coverage amount, and a paid-up amount that's guaranteed. After your term limit, coverage automatically switches to a smaller, paid-up amount that's guaranteed as long as you live.
If you have any questions about our life insurance policies, don't hesitate to give us a call! We love discussing options that are best suitable for your needs.
Transportation Insurance Belleville IL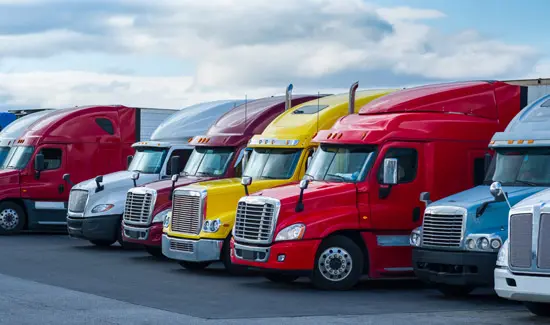 Commercial vehicles, products, and employees are always on the move. Motor vehicles are responsible for the transportation of goods and people covering 2.9 billion miles per year! Every year, regardless if you are a manufacturer or distributor, if you are transporting cargo across the country using vehicles, you need an insurer whose deep transportation knowledge and services can keep you on the road.
Manufacturers and distributors are the most common commercial businesses that transport goods using their own trucks, vans, or cars. Full Circle Insurance provides coverage solutions that help keep your vehicles protected throughout your journey. Call us today to speak with an agent about our various coverage options!
Commercial/Retail Property Insurance Belleville IL
If you are a business owner in the
Belleville, IL
area – then you need commercial property insurance to protect not only your building but the products of your company as well. "Products" can include things such as lost income, computers, money, or anything valuable within the company. Under liability coverage – your building would be protected from fire damage, burglaries, or vandalism. Call us today to learn about your commercial insurance coverage options.

Homeowners Insurance Belleville IL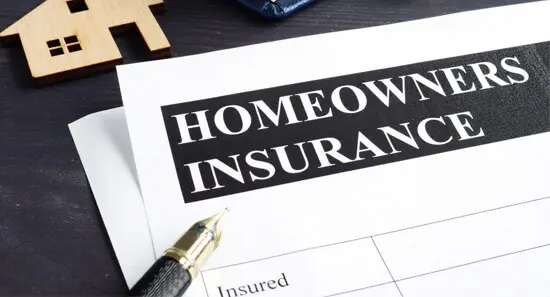 For most homeowners, your home is your most valuable asset, and like most valuable assets – should be protected! Take a proactive approach to protect your most valuable asset. Browse our various homeowner's insurance policies that are designed to protect you against things you can't afford to lose. A great homeowner's insurance policy consists of coverage for your personal property and includes liability insurance which pays for injuries to other people or damages to their property accidentally caused by you. You can also buy additional coverage plans for your property, for instance – flooding isn't typically covered under your homeowner's policy – but that doesn't mean you can't protect yourself!
Tips for keeping your rates low
Raise your deductible – Your deductible is the amount of money you must pay before your insurance takes over the financial responsibility. Given that the purpose of insurance is to pay for damages you can't afford – if you raise your deductible to a reasonable limit you can afford to better prepare yourself in the case of a loss.
New Home – If your home is less than 10 years old, you may qualify for a new home discount!
Make your home safer – The safer your home is, the better coverage and discounts you can receive. Burglar and fire alarms help, even a sprinkler system can decrease your rates!
Construction material – Fire-resistant construction material like brick, masonry, and rock lower your costs, while other materials provide lesser premiums for hail damage. Always make sure to check the location of your nearest fire department and avoid buying a home in flood-prone areas.
Any questions about our homeowner's insurance coverage, call us today!
Quoting of Commercial and Personal
Farm Insurance
Ranch Insurance
Crop Insurance
Special Event Coverage
Premium Financing
Web Pay
Pay in Person
Instant ID Cards
Certificates of Insurance for Commercial Policies Faxed and Emailed
Instant SR22 Filings
Commercial Trucking Filings Done With State and Federal, Cargo Filings
Endorsements for Primary and Noncontributory, Waiver of Subrogation, Additional Insureds